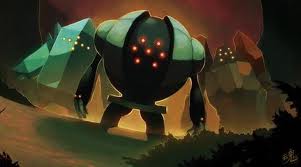 Regirock, Regice and Registeel
are a semi-legendary trio from Gen3. They were created by
Regigigas
, tired of towing the continents on his own. The three of them are defensive, with however some offensive potential, unlike Regigigas that is bulky but mainly offensive according to its stats.
Comparing them to each other: they have the same base stat total of 580 (like other semi-legendaries). They all have a 80 base HP and a 50 base speed. Registeel is the more balanced of the trio, with each defensive base stat at 150 and each offensive base stat at 75. This makes it ambivalent in defensive but limits its offensive potential, that's why Registeel is the most defensive of the trio. Regirock has a 200 base defense (shares the fourth place with Steelix), and a base special defense and attack of 100 each, leaving it a 50 base special attack, while Regice has a 200 base special defense (second place behind Shuckle), a base defense and special attack of 100 each and a base attack of 100, making Regirock the physical one and Regice the special one. Such bulky Pokemon don't need speed at all, and unlike Onix they can hit back hard enough (except for Registeel which is a staller). Regirock and Regice, as bulky sweepers, can hold an assault vest and still set up by using respectively Power-up Punch and Charge Beam. Regirock makes better use of the assault vest than Regice, because the assault vest enables Regirock to balance its bulk, increasing its special defense, lower than its physical defense. For Regice however, the assault vest increases its highest stat, leaving it vulnerable to physical attacks.
Comparing their abilities: they all share Clear Body as a first choice. Clear Body prevents all stat drops from the opponent. They also have hidden abilities, but as they are uncompatible with certain moves I don't run them at all, though they are interesting: Regirock has access to Sturdy (after
Aggron and Steelix
, you already know it), Regice has access to Ice Body (regains some HP in hail) and Registeel has access to Light Metal (halves its weight).
How to play them?
Regirock: NU tier. I just can't understand why with such stats that Pokemon is NU. Well, you know how much I like tanks that hit hard, so here's how to make one with it. Clear Body for an ability (some moves may not be available with Sturdy), and an assault vest to increase its special defense. First move, either Rock Slide or Stone Edge for the rock STAB (respectively 112 and 150). Then, if you choose to give EVs in defense more than attack, get Power-up Punch to boost your attack. Then, get two of the following moves for the coverage: Fire Punch, Drain Punch (to regain HP), Earthquake, Iron Head, Explosion (YOLO), Hammer Arm, Superpower (beware of the defense drop), Counter, I don't know, show some originality if you have better moves in mind. 252 EV in HP, spread the rest between attack and defense as you please.
Regirock in Stat Switch: This is a MG where the highest and lowest base stats of all Pokemon are swapped. For example, Regirock switches its 200 base defense with its 50 base speed and special attack, making it the BEST fast special sweeper ever (regarding stats only). It goes from a 80/100/200/50/100/50 stat spread to one of 80/100/50/200/100/200. Give that guy either an assault vest, leftovers or a life orb. Now, Regirock may have a poor special movepool but what it has is enough. Ancient Power has a power of 90 with Rock Stab, and a chance to increase its stats by one stage. Then for coverage you have Earth Power, Thunderbolt, and Focus Blast if you want to give it a try (70% accuracy). You can also get a Hidden Power to target a certain type. Because power, that's why.
Regice: PU tier. Just like Regirock, that Pokemon shouldn't be PU with such stats. Some people use it with leftovers, I prefer assault vest for a special defense of 654 without any EV. Clear Body just like Regirock and 252 in HP. Spread the remaining HP between defense and special attack as you please. Get an ice STAB move, either Ice Beam for the chance to freeze (135 with STAB) or Frost Breath for the guaranteed critical hit (90 with STAB, not counting crit). Second move Charge Beam to increase the special attack. Then, some coverage. Flash Cannon, a Hidden Power or Ancient Power, pick two. If it didn't have a 50 base attack Earthquake would come in handy. If you don't wanna run assault vest, remember Rest and Sleep Talk are an option.
Regice in Stat Switch: That metagame turns Regice into a physical monster, swapping the 200 base special defense with the 50 base speed and attack. The problem is, Regice's rich physical movepool and access to Curse + White Herb got it banned from Stat Switch, which is a shame. But that is justified. Two other Pokemon are banned from Stat Switch, and I must say they are true monsters:
Azumarill
(100 in both attack and speed with Belly Drum and Huge Power) and
Mega-Diancie
(160 in HP combined to a 100 base defense and special defense, and even 100 base speed, for a huge bulk with Magic Bounce, no way you can kill that).
Registeel: RU tier. Why this one and not the others? I can't tell. Probably for its balanced bulk. Play it defensive, it definitely can't hit hard. Semi-offensive can work too, with the following moves: Seismic Toss, Toxic, Counter, Stealth Rock. Clear Body and leftovers. Other possibility, Rest + Toxic + Iron Defense + Amnesia. Basically a wall set, relying on Toxic, I don't like it much. Interesting but limited set, for you can lack time to set up, make your opponent quit (shame on you) or force your opponent to send out a poison or steel type Pokemon to wall you. There's also
Dusclops
that can trap you with Mean Look and Curse, and as they both have Rest you're going for a stall fight that Registeel is bound to lose, for its HP drop faster with Curse than Dusclops' with Toxic, knowing it can cure itself and reset the Toxic damage.
I like to use these golems when I can. Monotype rock or ice, I even used them in OU once (in a tank team). They're solid, but don't let the opponent setup. However, I only played Registeel in RU, I'm not at ease with it. That being said, you are free to try it in UU or OU to surprise the opponent.
By Champion Blackwolf. I do not own the pictures. Next topic: Hawlucha, tomorrow.
I believe registeel is better than other regis because balanced defense, way better defensive typing, access to clear body and stealth rock, and access to seismic toss to cover up the bad offense. Also access to curse while having good special bulk.

Click Here
My analysis of magikarp
epic battle
second epic battle
[rand]





[/rand]
Indeed, Curse enables it to balance its bulk even with full special defense investment, you're right

Similar topics
---
Permissions in this forum:
You
cannot
reply to topics in this forum