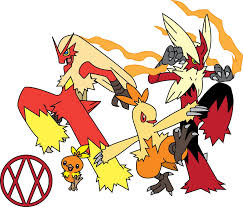 Torchic
is the fire starting Pokemon from Gen 3, and also my very first Pokemon. That's right, despite my age my first version was Ruby. Anyway, its base stats are a little low for a starting Pokemon, considering it has a total of 310 while others have 314 or 318, yet it is the fire type starting Pokemon with the highest base stat total. Torchic also belongs, in my opinion, to the best generation of starting Pokemon, because, despite their base stat total of 310 (yes, all three), they all have one base stat of 70, a base only
Froakie
from Gen 6 exceeds with its 71 base speed. Torchic is an offensive Pokemon, with a 60 base attack, 70 base special attack. Its 45 base speed was quite low in R/S/E but now that many Pokemon have a hidden ability, Torchic is interesting again. Many starting Pokemon have been granted good hidden abilities (
Totodile
with Sheer Force,
Treecko
with Unburden, Froakie with Protean,
Tepig
with Reckless), and Torchic, with the choice between Blaze (the common ability for a fire type starter, boosts fire power by 50% when user has less than 1/3 HP left) and Speed Boost (raises speed by one stage after each turn), becomes either a nice baton passer or a super-fast sweeper. Speed Boost made Torchic's evolution line very dangerous, because they were too slow and too fragile with just Blaze.
Comparing it to its evolved forms:
Combusken
raises every base stat but it does it very slightly: +20 in defense, +10 in SpD, +10 in Speed, + 15 in HP, +15 in special attack, but still a +25 in attack. Still offensive, still the same abilities (starting Pokemon always keep the same abilities unless they mega-evolve). Base stat total, 405, which is the common total for a starting Pokemon.
Blaziken
raises its stats very slightly like Combusken, but gains good offensive stats: up to a 120 base attack, 110 base SpA, the defensive stats don't exceed 70 and the speed goes up to 80, like the HP. Blaziken, my all-time favourite Pokemon, becomes a real threat with Speed Boost: good offensive stats, decent speed that raises at the end of each turn make it such a good sweeper (it can actually combine swords dance, focus sash and protect to become a killing machine) it was actually moved up to Ubers in Gen 5 and, unlike
Excadrill
, it has never been moved down since then. A fully evolved starting Pokemon in Ubers, now I can die in peace (and quite some time after I wrote the original version of my article,
Greninja
followed Blaziken).
Something even more impressive with Blaziken? Two members of the same evolution line in Ubers: Blaziken actually has a Mega-Evolution. 130 base special attack and it's not even used because of a 1-freaking-60 base attack, a 100 base speed and of course Blaziken keeps Speed Boost while mega-evolving. Any other Pokemon that combines a base attack of 150 and speed of 100 (at least)?
Deoxys
(base and Attack),
Mega-Absol
(and it even has sucker punch), the
Mega-Mewtwos, Mega-Pinsir, Regigigas, Slaking
. The only one in this list that is neither mega or legendary has an ability meant to create a handicap in order to compensate its insane power (Slaking). Out of them all,
Mega-Blaziken
is the only one with Speed Boost, and its movepool enables it to KO every single one of them. Mega-Pinsir though, with Quick Attack + Aerilate can OHKO it before Blaziken can even move. Hey you, yes you in the third row. Quick Attack Blaziken, that's what you're saying? Tell me, have you ever seen a OU Pokemon getting serious damage from a normal type Quick Attack? I'm ready to gamble and place a high amount of money on
Sableye
being moved up to Ubers under its two forms before we see a healthy Mega-Pinsir getting KO from a normal type Quick Attack, even from Mega-Blaziken. Mega-Blaziken's main weakness resides in its weak bulk (HP 80, Def 80, SpD 80, low for an Uber) and the fact that its only priority offensive move is normal type (no STAB, no coverage).
How to play them?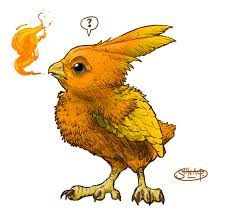 Torchic
: LC tier. Either offensively or as a baton passer.
Baton Pass set: Give it a focus sash to compensate its low bulk. Get Speed Boost for an ability. Then, start with Protect to get one free turn of Speed Boost. Then, the set I used involved Swords Dance but the Baton Pass clause now forbids the combination of speed and other stats in the passed boosts. In that case, you can replace Swords Dance with Dig: a move in two turns making you almost invulnerable between the two phases of the move (Earthquake can still hit you and the damage doubles), increasing your speed by two stages in the end, and Torchic survives with the focus sash. After that, use Baton Pass to give this speed to whoever you want (banded
Bunnelby
, lol). For a fourth move, I'd use Overheat for a chance to OHKO the opponent if it's too much of a threat to you, unless you plan to actually pass speed to a special sweeper (Overheat drops SpA by two stages).
Offensive set: Torchic is not likely to last long, so do your best to deal heavy damage while you can. Get either an eviolite to last one turn more, or a life orb to deal as much damage as possible. Get Protect to activate Speed Boost at least once, then unload your Overheat (power 195 with fire STAB), Fire Blast (180, doesn't drop stats, imperfect accuracy), Bounce for coverage, Counter if you have an eviolite. My favourite combo with Torchic is Speed Boost + Endure (you keep 1HP after the attacks this turn) + Reversal (base power 150 with 1 HP left) + Liechii berry (raises attack by one stage when low HP). That's something I've done for long, with the Blaziken family or Pokemon like Heracross, Hitmonlee... I remember using Endure + Reversal with Heracross in Ruby's Battle Tower. As Torchic isn't going to last long anyway, just seize any opportunity to wreck what you can.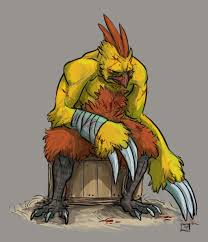 Combusken
: NU tier. Same choice here, either baton passer or offensive set.
Baton Pass set: same as Torchic, but Reversal replaces Overheat, for Reversal does more damage with fighting STAB (power 225), just in case you have to defend Combusken against a Pokemon that can actually do heavy damage to the one you're passing speed to. Still the same limit as Torchic, you can not use Swords Dance if you run both Baton Pass and Speed Boost.
Offensive set: Still Speed Boost, still Prorect as your first move. Then attack: your defenses are low so you better hit first and harder. Thankfully Combusken has access to items like life orb, expert belt or Liechii berry, as well as coverage moves such as Poison Jab, Aerial Ace, Bounce, Dig, and some good STAB moves: Sky Uppercut (can hit Pokemon using Fly), Reversal (combine it with Endure), Flare Blitz (keep as much health as possible if you want to take down more than one Pokemon with this), and some special moves as well, Flamethrower, Fire Blast, Focus Blast... Expert belt is helpful to target weaker types, life orb does more damage in general but cuts your HP (do not use Flare Blitz with it and avoid hitting Pokemon with Iron Barbs, Rough Skin or the item rocky helmet). Liechii berry raises attack by one stage with low HP, making a good combination with Endure and Reversal, but a focus sash helps as well if Combusken's defenses and HP are set to minimum, to ensure it would faint with one hit, and be saved by the focus sash, in the turn it uses Swords Dance, and then it can unload Reversal.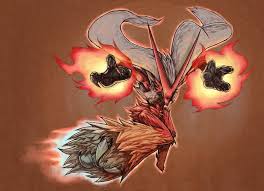 Blaziken
: Uber tier. As its mega-evolution is Uber as well, there's no need to set a regular Blaziken offensively, unless you want to take advantage of an item such as focus sash, Liechii berry or choice band. I see regular Blaziken more as a baton passer, with Speed Boost and a focus sash, running Protect, Swords Dance (Baton Pass clause does not apply to Ubers), Baton Pass and an offensive move just in case (Reversal, High Jump Kick, Blaze Kick and other moves of this kind).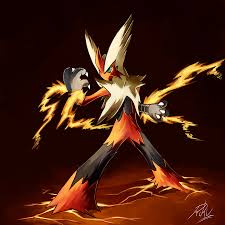 Mega-Blaziken
, Uber tier. Mega-Evolve from the start to gain some speed and use Protect. Then, you're faster than most Uber Pokemon (with an adamant nature, Mega-Blaziken after one turn of Speed Boost outspeeds every single Uber but
Deoxys-Speed
, not counting choice scarf). Mega-Blaziken is mostly used with powerful and reckless moves such as Flare Blitz (180 with fire STAB, recoil damage), Brave Bird (120, recoil damage) and High Jump Kick (195 with fighting STAB, crash damage if misses). I can run this set, but I like Endure + Reversal a little more (Endure replaces Protect, the two being incompatible in consecutive turns). Whatever your set is, do not, I insist do not, run Earthquake: types that are weak to ground but not fighting are poison, fire and electric. In Ubers, you find
Arceus
with the proper plate (these three plates aren't used often),
Ho-Oh
(immune),
Primal-Groudon
that can take an Earthquake and hit back hard,
Reshiram
(not used much because of an incompatibility with
Kyurem-White
), another Blaziken that can be OHKO with Brave Bird. As for
Mega-Gengar
, a Flare Blitz should OHKO it. Anyway, the classic set with Flare Blitz + Brave Bird + Protect + High Jump Kick is easier to use than Endure + Reversal, because you actually rely on Reversal do deal heavy damage, but you actually lack other moves with a base power of 100 or above that don't actually hurt Blaziken itself. As Mega-Blaziken's bulk is still weak for an Uber Pokemon, you better hit as fast and as hard as you can. 252 Atk, 252 Speed, adamant nature (+ Atk – SpA).
When facing a Blaziken, you can actually counter it with Earthquake from
Groudon
(whatever form), Hydro Pump/Surf/Origin Pulse from
Kyogre
(any form), Brave Bird from Ho-Oh, Moonblast from
Xerneas
(after Geomancy if Blaziken isn't too fast yet), Air Slash from
Shaymin
(if Blaziken is slower)... Blaziken is far from being invincible, even in Ubers, yet I admit it belongs there: such a sweeper with Speed Boost would have the straight edge on most of the OU tier. Whether it has Speed Boost or not does not matter to me anyway: Blaziken is my very first Pokemon, and my favourite one because it is the one I started my journey with as a trainer.
By Champion Blackwolf. I do not own the images. Next topic: Kabutops, later this week.
I'm back n_n sorry for being inactive. Good article, tho low kick should be metioned for blaziken since that is the main fighting move it uses

Click Here
My analysis of magikarp
epic battle
second epic battle
[rand]





[/rand]
Hm, Low Kick is dependant on the target's weight, but it is indeed a good option, safer than HJK, thanks. Kabutops is still on its way.
Almost all uber are heavy and low kick does 120 base power to almost all of them

Click Here
My analysis of magikarp
epic battle
second epic battle
[rand]





[/rand]
---
Permissions in this forum:
You
cannot
reply to topics in this forum