Exeggcute
is another Gen1 Pokemon from the Safari zone. Back in the day, the most common typing variation for grass was grass/poison, yet Exeggcute was made grass/psychic, that's kinda neat. Exeggcute has average stats for a first evolution stage Pokemon, with a total of 325. It has a 60 base HP and special attack, 80 base defense and a 40 base speed. A 40 base speed is still decent if you run the ability Chlorophyll (doubles speed in sun), but Exeggcute also has access to Harvest (50% chance to harvest a used berry at the end of the turn, 100% in sun). Harvest can also be triggered twice in the same turn if the harvested berry is immediately used (like sitrus berry under 50% health). A bulky Pokemon with that ability can become a true nightmare as a staller, like you can't even kill it. Well, at least it doesn't combine that with immunities and Will-o-Wisp like
Trevenant
.
Comparing it to its evolved form :
Exeggutor
keeps the same abilities and has a 520 base stat total, which is close to a starting Pokemon (such as
Venusaur
). With a 95 base HP and 85 base defense it has decent bulk to combine with Harvest and some berry. The 65 base special defense though limits its staying power and shows any Signal Beam is lethal to it. Exeggutor also has a 125 base special attack to go with powerful psychic and grass moves (and Giga Drain to heal itself even better). The thing is, Exeggutor may look like a big tough tree, it gained 5 points in its base defense by evolving. Like, if it wasn't for the special attack gap, eviolite Exeggcute would outclass Exeggutor. You basically have an evolution line made out of a bunch of eggs (many of which being broken) and a paper-made palm tree.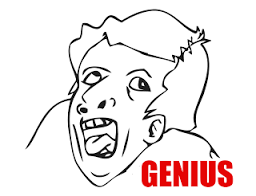 How to play them ?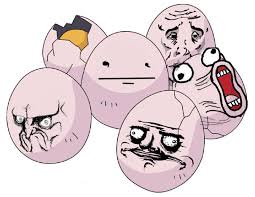 Exeggcute : LC tier. With Harvest and an Oran Berry. Bulky special EV spread. The Oran berry will restore 10 HP which is a lot at lvl 5, and Harvest will enable you to do it again and again. Your STAB move here is Giga Drain (102 with grass STAB) to hit fairly hard and restore some HP. Then, once your berry is used, if Harvest didn't grow one, you can buy time with Protect. Then another stall move, either Leech Seed to restore even more HP while the opponent slowly fades, or Light Screen to backup your special defense (keep in mind you don't have an eviolite). The fourth move can be Sleep Powder, Psychic, Toxic… whatever you need. You can even try Sunny Day to combine it with Harvest. My fourth move is Sludge Bomb, because
Cottonee
is a pain, and I wanted to make sure it dies. In one hit with Sludge Bomb, or in five if it spams Substitute but while it spams Substitute it can't do anything else to you. But as I say in every article, it's up to you. If you want to play Exeggcute with eviolite and Chlorophyll for a combination with, I don't know,
Vulpix 
? You can try it and tell me how well it worked;)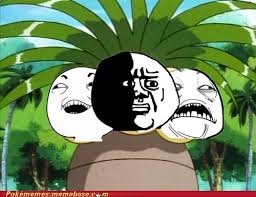 Exeggutor. BL4 tier, so basically NU. Well, that's quite a fall for one of the Gen 1 OU Pokemon. You can try it in RU, UU or psychic monotype. Watch out for
Volcarona, Galvantula and Scizor
. I see two good sets, the first one involves Harvest and a chesto berry, with Light Screen just in case, Giga Drain and Psychic like Exeggcute, and Rest to heal and wake up as much as you need. Don't run Sunny Day, get a
Ninetales
in your team if possible. 252 HP and 252 SpA, modest nature should be fine.
The second set is more coward-ish, with Substitute spamming. Harvest with sitrus berry, hide behind Substitute and Leech Seed your way to the hall of shame. Giga Drain helps too, and then you have the choice between Psychic, Sleep Powder, Toxic, Protect…
Either way, you can backup Exeggutor's bulk with Reflect or Light Screen from
Espeon or Hoopa
in a mono psychic.
Exeggutor doesn't look strong but it can last long. To counter it you can use Knock Off to mess up Harvest. An X-Scissor, Bug Buzz, technician Bug Bite… You can also resort to powerful poison, fire, ice, flying, ghost, dark moves. Exeggutor has seven weaknesses and that's what makes it balanced. Otherwise it's be a total pain… you know where. Besides that it's a nice Pokemon, sadly underrated.
By Champion Blackwolf. I do not own the pictures. Next topic: Xerneas, by Friday. Stay tuned, Mewtwo is also coming soon.
I like the pictures

. Is lum berry better than chesto berry because you are going to get it harvest back anyway? Also, drought is banned in UU/RU/NU so ninetales doesn't really work... Another set i saw when it was PU was a choice specs set. It had leaf storm, psychic, giga drain and hidden power fire. It wasn't bad. Good article


Click Here
My analysis of magikarp
epic battle
second epic battle
[rand]





[/rand]
I didn't know about the Drought ban. I thought that would only imply Drizzle and Sand Stream for the same reason heat rock isn't banned from monotype. But there again, logic is a myth. Well then, fast Ninetales with Sunny Day and heat rock, minimum defenses and HP, or monotype.

Lum berry, yes that is an option. Yes, it's going to be harvested anyway... sooner or later, and sometimes too late. Having the lum berry sniped right before you use Rest still happens. Since Rest already cures every status other than sleep itself and freeze, why lum over chesto?

Click Here
My analysis of magikarp
epic battle
second epic battle
[rand]





[/rand]
Still happen less often than Harvest not working

Click Here
My analysis of magikarp
epic battle
second epic battle
[rand]





[/rand]
Similar topics
---
Permissions in this forum:
You
cannot
reply to topics in this forum