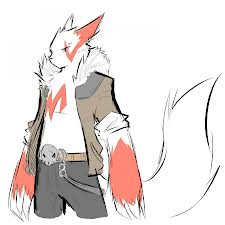 Zangoose
is a third generation Pokemon available only on route 114, in Ruby Version (
Seviper
replacing it in Sapphire and Emerald). Arch-enemy of Seviper, Zangoose because the strongest of the two during their rivalry. They have the same base stat total of 458 (decent for Pokemon that never evolve) but a different spread. They have the same base HP (78) and defensive stats (60 each), but Seviper has each base offensive stat at 100 and a 65 base speed, while Zangoose had a 115 base attack and a 90 base speed. This makes Seviper slow, fragile and unable to deal heavy damage while its rival Zangoose may be fragile, but has decent speed and can hit hard enough with physical moves and doesn't need special.
Zangoose's abilities clearly show its many fights with Seviper enabled it to adapt to the enemy. It has indeed access to Immunity, which protects it from poisoning (Seviper being a poison type Pokemon), and to Toxic Boost, which raises the power of its physical moves by 50% while poisoned. Do you remember my Guts
Heracross
set? Toxic Boost Zangoose hits even harder with facade: base power 70, raises to 140 with poison, 210 with normal STAB, 315 with Toxic Boost. Well you can still top that with Explosion from Refrigerate
Mega-Glalie
or Blast Burn from
Mega-Charizard-Y
in sun (1v1) but this is still great power we're dealing with. Zangoose wins the fight with Seviper for sure.
How to play it?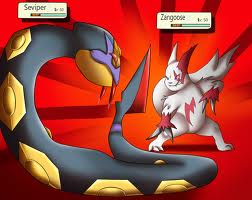 NU tier. I sometimes play it in monotype too. I remember it sweeping a whole team, but Zangoose still has limited speed (306 maximum). Give it Toxic boost and a toxic orb. Start with either Protect to activate toxic orb without taking damage, or Swords Dance to increase your power even more. Second move, facade, enough said. The last two moves are up to you, considering Zangoose can learn Night Slash, Close Combat, Brick Break, Pursuit, Ice Punch, Thunder Punch, Poison Jab... My third move is Quick attack for its limited speed, and my fourth move is Shadow Claw to hit ghosts and for the high crit chance. Also with both Shadow Claw and Facade Zangoose has a perfect neutral coverage: Shadow Claw hits the rock, steel and ghost types that would wall normal moves such as Facade. Quick Attack helps dealing serious damage with priority. In other words, everything in the opponent's team that isn't both too fast for Facade and too bulky for Quick Attack will be treated like Sevipers.
By Champion Blakwolf. I do not own the pictures. Next topic: Exeggutor. I know this one is really short, but after all, there's only one form and one set to deal with, I haven't found other efficient ways to play Zangoose. If you know one, feel free to tell me

can zangoose learn knock off?

Click Here
My analysis of magikarp
epic battle
second epic battle
[rand]





[/rand]
Nice article.

I remember playing Ruby. That old music back in the day. I miss the old games and their graphics.
Indeed, good old times. I started with Ruby and that really was something

Similar topics
---
Permissions in this forum:
You
cannot
reply to topics in this forum