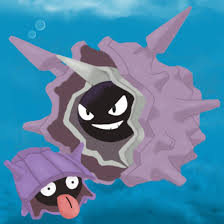 Shellder
is another first generation Pokemon. A water type this time, I think you've seen enough steel for now. It's good enough for a first evolution stage. It has a decent base stat total of 305, and just like
Onix
, what you first notice is its high defense : base 100 for a Pokemon that could always evolve (unlike Onix). What else has a base defense of 100 in Little Cup ?
Aron and Honedge
. It also has a base attack of 65, which is decent for its evolution stage. Low special defense and speed but Shellder found its way through that. It has access to three abilities. The first one is Shell Armor that protects it from any critical hit, this ability got
Mega-Slowbro
banned from monotype. The second one is Skill Link, which enables multi-hit moves such as Rock Blast or Tail Whip to always give the maximum number of hits, five in most cases, that's the ability
Mega-Heracross
got. The third one is Overcoat, which protects Shellder from any powder move, Spore Effect, or climate damage. A Skill Link Shellder with a focus sash and Shell Smash is a real threat in LC, but none of its Skill Link moves has the STAB bonus, which is the limit to its power.
Comparing it to its evolved form :
Cloyster
has a base stat total of 525, which is close to a starting Pokemon in its final evolution stage. Its base defense goes up to 180, which makes Cloyster the best first generation Pokemon in defense. It now shares the seventh place with
Aggron and Mega-Slowbro
. Its attack goes up to a base of 95, which, under a Shell Smash, and a base speed of 70, made it one of the main threats in Gen4 and 5. Base special attack of 85 but nobody runs special Cloyster anyway. Low special defense but as it always run Shell Smash it doesn't need high defenses anyway. Same abilities as Shellder, the most used of them being obviously Skill Link. Now moved down to UU, Cloyster remains a big threat in UU, OU and monotype with its main combo.
How to play them ?
Shellder : LC tier. You can deal heavy damage with it, but don't try to play Shellder in PU or above, its way too weak to survive outside of LC. An eviolite wouldn't help much with a base SpD of 25. Give it a focus sash and Skill Link. Start with Shell Smash, that will raise your attack, special attack (useless) and speed by two stages. Then, deliver Icicle Spear (power 25, hits five times) or Rock Blast (same with 90 % accuracy). You can complete your set with Ice Shard to hit with priority when needed, Rapid Spin if the opponent has set hazards, Razor Shell for a water STAB move or Dive (80 base power, 120 with STAB, hits in two turns, 100 % accuracy). Avoid sending out Shellder on entry Hazards, and give it EV in attack and speed, adamant nature.
Cloyster : UU tier. Though, it used to be OU and is still good there. Known for having been one of the major threats in Gen5, Cloyster will likely destroy your team on its own if you let it setup. Especially in monotype, it's still a monster. Give it a focus sash, Skill Link, and get the three following moves : Shell Smash, Icicle Spear (has ice STAB bonus), Rock Blast. The fourth move is up to you, just like on Shellder. Mine is Dive because nobody expects it and it has 100 % accuracy while still hitting fairly hard. 252 Atk with adamant nature, 252 Speed.
To counter it, you can try Vacuum Wave (Cloyster usually has low hp after setting up), Will-o-Wisp Sableye (even if I hate both that Pokemon and that move), any steel type that isn't
Heatran
(remember Cloyster can learn a water move). I'd say the best steel counters are
Ferrothorn
for its great defense and Power Whip,
Skarmory
for its great defense and Roar/Whirlwind,
Empoleon
for its typing and Grass Knot. You can also use a special sweeper with a 110 base speed and a choice scarf (it outspeeds any +2 Cloyster), a sand Stream Pokemon if Cloyster is down to 1HP, a scarfed
Ditto
…
The thing is, when Cloyster is fighting a Pokemon that can't harm it, or that is going to use protect and you know it, it can take advantage of that and use a second Shell Smash, giving it enough power to wreck really bulky Pokemon as well as enabling it to outspeed ANY scarfer. If Cloyster is adamant, only
Deoxys-Speed
has a chance with a scarf but it's Uber, and if Cloyster is jolly it outspeeds said Deoxys. If you see Cloyster use Shell Smash twice, you either have an Empoleon to save you or you quit, it's that simple.
Cloyster is a neat Pokemon, with a huge defense it yet doesn't need, and can turn into a nightmare. It still has fair limits, not as broken as some others. A second Shell Smash means game, but Cloyster still needs the opportunity to place it and that remains fairly rare.
By Champion Blackwolf. I do not own the pictures. Next topic: the Regi Trio, tomorrow. No delay, it's already finished.
I've also seen cloyster as a spinner with spikes, rapid spin, icicle spear and rock blast. I don't like that variant tho, its special bulk is just way too low. I use razor shell instead of dive and i've also seen a mixed cloyster with hydro pump. Good article.

Click Here
My analysis of magikarp
epic battle
second epic battle
[rand]





[/rand]
Thanks

Yes, I used to run Razor Shell like you.
But then I took an arrow to the knee
but then, I realized that if I had to resort to a water STAB move, I really didn't want to miss, so I chose the closest one in power with a 100% accuracy, turns out it's Dive

Similar topics
---
Permissions in this forum:
You
cannot
reply to topics in this forum