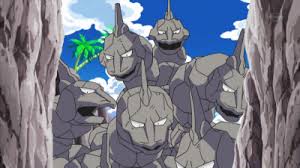 Onix
is a first generation Pokemon. Without an evolved form at first, it gained one in Gen2. Known in his generation as the Pokemon with the second highest defense base stat, which is 160 (behind
Cloyster
), he now shares the 11th place with
Primal Groudon and Deoxys-Defense
. It also has the highest defense ever with an eviolite, being the hardest (physically) Pokemon that can still evolve. Though, with a base hp of 35 and SpD of 45, its bulk is limited. It also has an average speed (base 70) and low attack (base 45). Which means its only good stat is defense and it can't do much with just that, it may take two or three hits but can't hit back hard enough. Also, its two double defenses are very common types of moves : water and grass. You find a Scald and a Giga Drain/Energy Ball/Leaf Storm in almost every team. Besides that, it has a three single weaknesses, more common types : ice, fighting, ground. You find Earthquake or Earth Power, Ice Beam almost everywhere, without even mentionning any fighting move.
Onix has access to three abilities. You can get Rock Head that enables it to avoid any recoil damage from moves like Double-Edge or Head Smash, Weak Armor that lowers its defense and raises its speed by one stage per physical hits it takes, or Sturdy that helps it survive a hit with at least 1HP if it still had full health before the hit. With the weaknesses and low special defense it has, you need Sturdy. Anyway Onix clearly wasn't meant to fight, it's just a support.
Comparing it to its evolved form :
Steelix
goes from a rock/ground typing to a steel/ground typing, and from a base stat total of 385 to one of 510. With a base defense of 200 it holds the fourth place along with
Regirock.
But what about special defense ? Well, now it's 65. Still not enough, but oh well at least it'll never be as annoying as, let's say,
Cresselia
. The special defense can also go quite high with an assault vest (up to a value of 376). Steelix gains weight and loses speed (base 30) but considering it can rely on Curse, does it actually need the speed it used to have ? Its attack now has a base of 85, that's decent but not enough to sweep. Steelix also loses weaknesses. It no longer has any doubles, only four single weaknesses (water, fire, fighting, ground), many resistances due to its steel type and even two immunities, electric and poison, which means neither Thunder Wave nor Toxic (even Toxic Spikes) have any effect at all on that thing, which gives you an advantage. Two of its abilities remain the same, and Weak Armor is replaced with Sheer Force : the attacking moves with a secondary effect (such as Fire Fang) lose that effect and gain 30 % of their power. I remember a
Hariyama
with Sheer Force using Fake Out without even making me flinch, and no I didn't have Inner Focus. With Sturdy, the combination of Curse and Gyro Ball, an already low speed, Steelix remains good, but without any access to Metal Burst, Aggron outslasses it.
With the release of ORAS, Steelix gained a mega-evolution.
Mega-Steelix
is quite interesting. Its attack got really good with a base of 125, its base defense went up to 230 and Mega-Steelix now shares the first place with
Mega-Aggron and Shuckle
. Yes, the one and only. But unlike Shuckle Mega-Steelix can hit hard without resorting to Power Trick. Mega-Steelix now has a special defense of 95, but I'm actually disappointed they didn't raise it more. I mean, did Steelix really need to go beyond a base defense of 200 ? The bulk is quite unbalanced. Also, I think it should have lost more speed : while mega-evolving Steelix gains 340 kg, and it still has a base speed of 30. Well,
Sunflora
also has a base speed of 30, but that one weighs 8.5 kg. Like, « hey look at me, I'm 730 kg over you and you can't outspeed me lol ». Pokemon logic, ladies and gentlemen. Another disappointment is Mega-Steelix' ability, Sand Force. Like really, it loses Sturdy for a weather-depending ability? Well, let's just say that if you have in your team another Pokemon that sets a sandstorm, I don't think you need Steelix at all. And in Mega-Steelix' set, let's just say that Sandstorm and Sand Force are outclassed by Curse. Enough said.
How to play them ?
Onix: LC tier. It's mostly a support. Do not play it in PU or above : all it can do there is set Stealth Rock, if you're lucky you can go for Toxic but it's like you start a battle at 5v6, can you afford it ? In LC the gap between the stats isn't the same, you can actually give it an offensive move, but Onix is still a support. Give it an eviolite and Sturdy. Avoid any hazards from the opponent (send out Onix as a lead for example) or anything that can break sturdy before it can make a move, remember it has a low special defense. Start with Stealth Rock, then, I'd say three of the following moves : Earthquake, Rock Slide, Dragon Tail, Toxic. I find Onix really hard to use, so if you find a better set than mine please tell me, I'd be glad to learn a good one. Until then I'll see Onix as a disappointment for a non-evolved Pokemon with such defense.
Steelix: NU tier. Stealth Rock in NU, don't give it that move in monotype (there are
Forretress, Ferroseed, Ferrothorn
for this job). Give it Earthquake (power 150 with ground STAB) and Gyro Ball (the slower you are than the opponent, the harder you hit). Then, two of the following moves : Dragon Tail (combination with hazards), Rock Slide, Fire Fang (coverage), Curse (combo with Gyro Ball), Rest (combo with Curse). If you don't give it Curse nor Rest get an assault vest for an item, otherwise a berry (weakening damage or chesto berry for rest) or leftovers. Still Sturdy. Oh, and if you wanna catch the opponent off guard, you still have Explosion (YOLO). 252 EV in HP, 72 in SpD with a positive nature (negative to speed), 240 in attack. Of course Steelix isn't as effective as Aggron (it's missing Metal Burst) but it's still decent.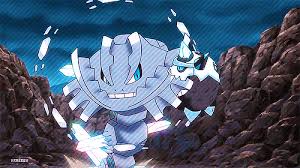 Mega-Steelix : RU tier. Mostly used as a tank, but also sets up Stealth Rock. Has Earthquake as ground STAB, and either Gyro Ball or Heavy Slam for steel. The last move it up to you : Toxic, Dragon Tail, Rest… Not much to say. I'm looking for a better set for Mega-Steelix, I have to admit I don't see it often, and I don't know how to run it. This is a sample Smogon set. If you have better ideas feel free to tell me.
To me, Steelix, regular and mega as well, is limited in its actions compared to, let's say, Aggron. Its bulk is less balanced than that of Regirock and this can be a problem. Losing Sturdy for Sand Force looks like a way to limit its potential, for balance. Mega-Steelix basically has to fight without using its ability, since you need a sandstorm to activate it, and it is outclassed by
Excadrill
(access to a choice band or a choice scarf) and
Mega-Garchomp
(still bulky, fast enough, high attack stat and access to swords dance). However it's still a nice Pokemon that gets the job done.
By Champion Blackwolf. Next article: Cloyster. I'll post it on Monday to give you time for this one. Not delaying it this time, I'm already done translating it. Pictures not by me.
good article. Steelix can also run a special set due to sheer force boosts its special moves not physical. I've seen steelix with flash cannon/earth power/dark pulse/Idk automise? It works decently with life orb.

Click Here
My analysis of magikarp
epic battle
second epic battle
[rand]





[/rand]
That's a good idea, I will try it, thanks
I also have four articles ready to be published, but I'm waiting a bit so people have time to read this one and yours. Cloyster tomorrow, Regi trio on Tuesday, Hawlucha on Wednesday, Heracross on Thursday. Kangaskhan will be ready for Friday and Zangoose for Saturday. Then, Exeggutor on Sunday.

Click Here
My analysis of magikarp
epic battle
second epic battle
[rand]





[/rand]
Similar topics
---
Permissions in this forum:
You
cannot
reply to topics in this forum