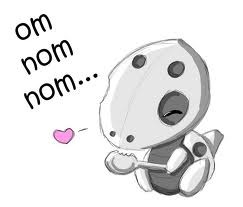 In the moonlight n°3 : the Aggron line
Aron is a Gen 3 Pokemon, available in two zones, but not that rare. It's the first ever steel/rock Pokemon, and is quite tough for a Pokemon that evolves twice : 70 base Attack, 100 base Defense. Its Special Defense is average for a LC Pokemon (base 40), and 50 base HP, but it's tough enough. It has a total of 330 which is more than decent for LC (see Sunkern for comparison). It learns useful moves such as Stealth Rock, Iron Head, Iron Tail, Stone Edge, Head Smash, Earthquake, Endeavor, Roar, Metal Burst… It also gets good abilities. You can first get Sturdy (it can't be OHKO unless the opponent has Mold Breaker, Turboblaze or Teravolt), you can choose Rock Head (does not hurt itself while performing Take Down, Head Smash and such other moves), or Heavy Metal (its weight is doubled, increasing the number of Pokemon you can heavily damage with Heavy Slam). Its typing gives it many resistances, yet two double weaknesses (fighting and ground), which is why getting an Aron with Sturdy helps a lot. Yet, I don't fully master it in LC, even with an eviolite.
Comparing it to its evolved forms : Lairon has a base stat total of 430, good for a NFE Pokemon. Its base attack goes up to 90 and its base defense reaches 140. Lairon shares the 23rd place on the defense ladder with Forretress, Mega-Scizor, Skarmory, Groudon and Torkoal. Among the Pokemon that can still evolve, it's third behind Doublade and Onix. The special defense stays low (50) but an eviolite can compensate. It doesn't get any new abilities, but does it need to ?
Aggron is what I call a true evolved form (Gen 4 additional evos, I'm looking at you), with a 110 base attack, 180 base defense (shares the seventh place with Cloyster and Mega-Slowbro), 60 base special defense, ok that one's low (one Earth Power, Surf, Focus Blast kills it). Its BST reaches 530 which makes it the equivalent of a starting Pokemon's fully evolved form, such as Blaziken, Blastoise, Chesnaught, and can be as good as many of them. For its good attack combined with bulk, the access to Counter-like moves and double weaknesses that mess all that up, I'd say Aggron is close to Swampert. The difference, besides typing, is the access to Sturdy.
Aggron also has a mega-evolution. Mega-Aggron raises its base attack to 140, its defense to 230 and shares the first place with Mega-Steelix and Shuckle. It finally gets a decent special defense (base 80) and its total (630) exceeds that of semi-legendary (Regirock, Moltres) and mythical (Mew, Deoxys) Pokemon. Mega-Aggron is the ONLY Pokemon that passes from dual-typed to single-typed (steel/rock to steel) which makes all its weaknesses as single as Forever Alone. It may lose Sturdy, but its new ability, Filter, reduces by one quarter the damage taken from weaknesses, which makes it the best physical tank. However, its special defense is still a problem now that Sturdy is removed. For this reason, people might alternate mega and regular form. It remains a wall that can hurt you bad, and that's what I like.
How to play them ?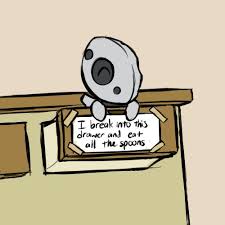 Aron: LC tier. Don't try to play it above, you have Lairon. When I tested it in LC I liked it, but I didn't fully master it. Get an eviolite, and in case of special weakness, Sturdy.  With Stealth Rock, you break the focus sashes and Sturdy in the opponent's team, then get some strong STAB moves like Head Smash (base power 225 with rock STAB but 80% accuracy, if you want to run Rock Head to avoid getting hurt be my guest, but you will rethink it when the opponent sends out Scraggy or Timburr) and Iron Head (power 120 with steel STAB, 30% chance to flinch a slower opponent). If for some reason you can't run Head Smash, Stone Edge or Rock Slide will do fine. As a fourth move, I always run Metal Burst with minimum speed: when you almost get OHKO and activate Sturdy, Metal Burst OHKO the opponent, dealing 150% of the damage you've taken from the last hit (you need to move after the foe), whether said hit was physical or special, making it more handy than Counter or Mirror Coat, and I know few Pokemon that can afford to run both (Mega-Swampert, Wobbuffet, Deoxys-Defense but I can't see any others). You can get Earthquake instead if you want coverage.
FEAR Aron : do you remember when I told you it was better not to play it above LC ?
I was kidding!
Play it in OU, make sure your Aron is lvl 1. Sturdy enables you to run an item other than focus sash. Then the moves, first use Endeavor: opponent hits Aron and leaves it with 1HP, Aron hits back with Endeavor and the foe goes down to 1HP as well. The following depends on your item. If you have a rocky helmet, a physical opponent can kill itself while finishing you off. If that's a shell bell, you regain full HP after hitting and you can activate Sturdy again. The one I run is the custap berry: in the next turn, Aron hits first in its priority bracket. Then, I can finish my opponent off with Iron Head. If I want my opponent to finish off Aron so I can send something else, I use Sandstorm so it still faints. Also, if you play it in rock monotype, you can rely on another sandstorm setter than Tyranitar, useful if the former faints early (or if you're saving it). With Sandstorm, you can also get rid of Shedinja. The fourth move is up to you, be creative.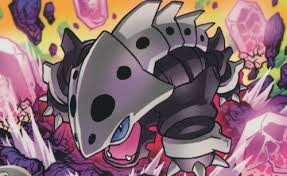 Lairon : NFE. You can play it in PU and NU. With an eviolite, both its defensive stats surpass those of Mega-Aggron. Slow as it is, Metal Burst is a great move to run. Give it one or two STAB moves like Iron Head, Rock Slide, or stronger moves with lower accuracy like Iron Tail, Stone Edge. Fourth move, I'd use Curse to boost the power of Iron Head, but also to lower Lairon's speed, enabling it to hit slow Pokemon with Metal Burst. If you run move's like Iron Tail, you will like Hone Claws, which will increase your accuracy.  EV set: 248 in HP, 252 in either attack or special defense, and 8 in the one you didn't fill up. 0 IV in speed (for Metal Burst), Brave or Quiet nature.  
Aggron : Recently moved down to the RU tier, which is a shame. [edit: From RU to NU in May] Anyway I'm not afraid of playing it in OU, mega or not. If you're playing it without the aggronite, you can get a custap berry or a rocky helmet. About the moves, get Metal Burst, Rock Slide/Head Smash, Heavy Slam as a steel STAB move (heavy as it is, Aggron has an advantage). Despite Head Smash, do not, I insist on it, do not run Rock Head as your ability, you need Sturdy to work with Metal Burst and the low special defense it has. I'm always surprised when I OHKO an Aggron because it doesn't have Sturdy. When you have access to sturdy, always run it!  The last move is your call. Hone Claws? Earthquake? Fire Punch ? Do as you like, get a move that meets your needs. If you give it a custap berry, you might like Endeavor : a Landorus-Therian activates Sturdy with Earthquake, you OHKO it with Metal Burst, then the opponent sends out a Pokemon with no priority move to finish the job and surprise ! You hit first thanks to custap berry and brings it down to 1HP with Endeavor. If you ever face me, remember one of my signatures is Metal Burst (with Aggron and Bastiodon as well). As Hammerfall would sing, "I'm deadly only when I'm getting caught" (Any means  necessary). Save EV set as Lairon.
Mega-Aggron : UU tier. Keep Metal Burst and remember you have the option not to go mega if needed (you would then keep Sturdy and take an Earth Power or any other move that would OHKO a Mega-Aggron). Then, keep Heavy Slam as your STAB move. As rock moves don't get the STAB anymore, better get Earthquake than Head Smash or Rock Slide, for Earthquake has a 100% accuracy and doesn't hurt Aggron as it hits. The fourth move is, once again, your call, be creative I love it.
Which is the dominant member of that evolution line?
Eviolite Lairon vs Custap berry Aggron: both the same EV set.  Aggron outspeeds Lairon and deals at least 66.8% damage with Earthquake. Lairon hits back with Metal Burst and activates Aggron's Sturdy, as well as its custap berry, Aggron finishes the job with an Earthquake. Aggron wins.
If Lairon is set especially to battle Aggron: it will have its own custap berry. Aggron hits first with Earthquake, deals a minimum of 99% damage, Lairon hits back with Earthquake and does a maximum of 76.9% damage. If Lairon does less than 75% damage, Aggron will not activate its custap berry, and Lairon will be the only one to get priority, finishing off Aggron with a second Earthquake.  In most cases Lairon wins.
Yet, if Aggron is set especially to fight Lairon: Aggron hits first with Heavy Slam (base power 80 against Lairon, 120 with STAB), dealing 19.8 to 23.5% damage to Lairon (with eviolite) and doesn't activate Sturdy or custap berry. Lairon hits back with whatever it wants, Aggron still stands, and hits first in turn 2 with Superpower, dealing a minimum of 79.2 % damage. In most cases, Aggron wins.
Lairon vs Aggron, both especially set to fight each other: Heavy Slam does 29.7 to 35.2% damage, doesn't activate anything on Lairon, Lairon hits back with anything, Aggron survives. Aggron finishes Lairon off for sure with Superpower. Aggron wins.
2 certain victories and 1 strongly possible victory for Aggron, 1 strongly possible victory for Lairon. Aggron wins.
Eviolite lvl 100 Aron vs Aggron, same EV set as described for Lairon. Aggron hits first with Earthquake and activates Sturdy, Aron hits back with either Metal Burst or Endeavor. Turn 2, Aggron uses Earthquake and wins.
Custap berry lvl 100 Aron vs Aggron: Aggron hits first with Earthquake and activates Sturdy, Aron replies with Earthquake and deals 55.9 to 66.4% damage. Turn 2, custap berry, Aron hits first and wins with a second Earthquake.
If Aggron's user is aware of Aron's custap berry: Aggron uses Head Smash and doesn't activate it (up to 46.5% damage), Aron replies with anything, Aggron wins turn 2 with Earthquake.
Lvl 1 Aron vs Aggron: Aggron uses Earthquake, Aron activates Sturdy and uses Endeavor. Turn 2, both custap berries are eaten and Aggron still hits first and wins.
Advantage, Aggron 3-1.
Mega-Aggron vs custap berry Aggron: Speed tie. Assuming Mega-Aggron hits first, it starts with a 40 base power (60 with STAB) Heavy Slam on Aggron and does 13.4 to 16% damage. If Aggron uses Metal Burst, that won't do much, if it uses Earthquake that will do up to 26.5% damage. Yes, that little damage: Mega-Aggron has a single ground weakness, one of the highest defenses and Filter. Aggron can use two Earthquake if it wants and still not KO. Even Superpower is a guaranteed 4HKO. Meanwhile, Mega-Aggron finishes the job with an Earthquake of its own. Mega-Aggron wins.
Mega-Aggron would lose to FEAR Aron due to the absence of custap berry.
Lairon vs Mega-Aggron: custap berry Lairon takes up to 41.7% on Heavy Slam, replies with Metal Burst, Mega-Aggron stands and finishes the job with Earthquake.
FEAR Aron vs custap Lairon: for the same reasons as Aggron, Lairon wins.
Outcome: Aggron and Mega-Aggron are tied with two victories and a defeat. However, since Mega-Aggron beats regular Aggron, it is the dominant member of the evolution line. The Mega-Evolution that beats the eviolite users and its non-mega form. See, Porygon-Z? This should be your Christmas wish.
Aggron is one of my favourite Pokemon, strong, tough, but still balanced for it has more weaknesses than, let's say, Scizor. Mold Breaker gets it, ground or fighting moves (with STAB if physical), any good special move, burn, the absence of priority moves in its movepool…  I like my pokemon strong and balanced, I hate the unfair ones, this is me.
By Champion Blackwolf. I do not own the images.  The next article is about Steelix. As I wrote it before the release of ORAS, I need to add a part about Mega-Steelix.
Last edited by Champion Blackwolf on Mon May 09, 2016 8:42 pm; edited 1 time in total
Cool, I never knew normal aggron can be useful to OU! Great article!

Click Here
My analysis of magikarp
epic battle
second epic battle
[rand]





[/rand]
Also, I'm currently translating three more articles (I've been absent for over a month now). Steelix, Cloyster and the Regi trio are on their way


Click Here
My analysis of magikarp
epic battle
second epic battle
[rand]





[/rand]
I'm also translating Hawlucha and Heracross. I'll publish these five articles at the same time, in compensation for my long absence. Hm, lemme see, could you please do like Gligar and Gliscor for n°41?

Click Here
My analysis of magikarp
epic battle
second epic battle
[rand]





[/rand]
Similar topics
---
Permissions in this forum:
You
cannot
reply to topics in this forum